Galbraith's New Owner Oksana Posatska: Florist And Plant Whisperer, by Cherise Letson
Original article can be read here, courtesy of huddle.today.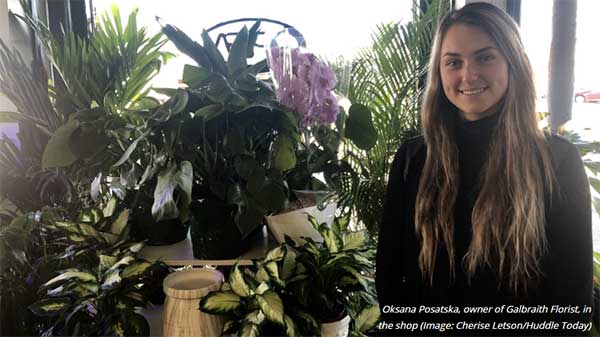 SAINT JOHN– A new business owner originally from Ukraine is carrying on an old Saint John family business, and also saving a few houseplants while she's at it.
Oksana Posatska is the new owner of Galbraith Florist on Rothesay Avenue. Though she is new to running a flower shop, she is far from unfamiliar with working with flowers.
Before she, her husband and daughter moved to Canada three years ago, Posatska had been working as a florist since she was 15. The shop was owned by a woman who coincidentally became her future mother-in-law.
"I didn't even know that it would turn out like that," laughs Posatska. "I gathered some experience from there. The girls taught me all about the flowers."
Posatska and her husband also opened and ran a store in Ukraine, which she describes as like a Shoppers Drug Mart, minus the pharmacy. The shop's ownership was transferred to Posatska's mother when they decided it was time to pursue their dream of a life in Canada.
"The first goal was to live in Canada for a better future for our daughter. We always have been dreaming about this. So my husband found work here as a painter and we came here after he immigrated," she says. "Five months after him, we came to Canada and we just fell in love with the country and the people."
Posatska first started working at Cedarcrest Gardens in Saint John.
"I fell in love with that place too," she says. "It was a pretty awesome experience."
Then this past February, she came across the ad to purchase Galbraith.
"We saw this add and it just clicked," says Posatska. "It was to continue a family business, the same kind my parents-in-law have back in Ukraine. So it was like we can continue the family business, but over here."
Posatska started working at Galbraith to see how business was going, whether it was profitable, as well as learn the ins and outs of running her own shop.
"The previous owner took her time and showed me the customer preferences, how people like doing flowers here," she says. "It's quite different [than back in Ukraine], but I like this way of doing this. Right now my goal is to keep the same integrity of the business and to keep the clients happy."
Posatska has owned the business since September 21. She says she's thrown herself into the business and takes the job as a florist seriously.
"It's really thrilling to be a part of people's major events or to comfort people when they're grieving. I found this work is really important and emotional for sure."
She's also adding a new service to the shop: plant consultation. Posatska is offering her expertise to clients who are struggling with their houseplants, whether it be that they're dying, or someone is not sure what type of plant is best for their home or how to take care of it. She can go to people's homes, or people can bring their plants to the store.
"I'm trying to grow the other side of the business because I think flowers and plants are not far apart from each other," she says.
"For the customers, I'm offering them a service like indoor care for people who, for example, they want to have plants, but they know nothing about it or they don't have time to research and learn. Every plant is a different creature and they need particular care."
The most common mistake Posatska sees people make with their houseplants? Overwatering.
"We cannot save a plant that was over watered. We always have to learn because the plants are always showing what they need," she says. "If we see the dried ends on the leaves, it means that it needs more water. If it has leaves that are dragging down, it's over watered. They show us what they need, but it takes time to learn and understand exactly what they need."
Business has been steady at Galbraith since Posatska purchased the business just over a month ago. So much so that she's currently looking to hire a few staff.
"I had the dream to be the owner of my own flower shop," she says. "And it came true."